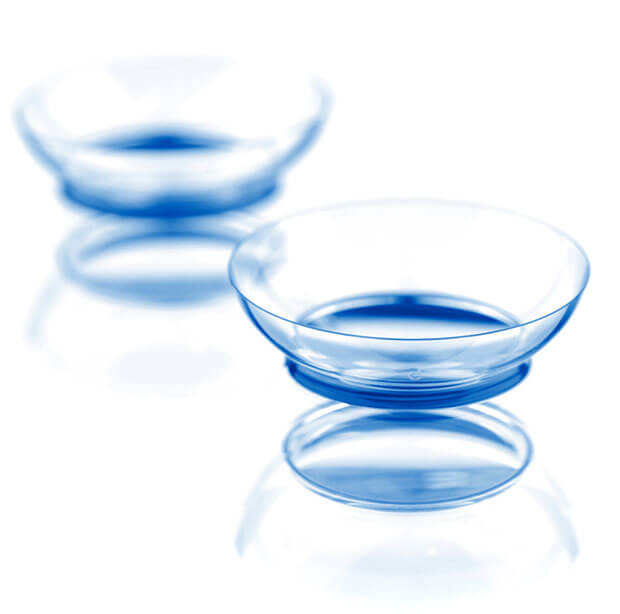 Your Today's Vision eye doctor will perform a contact lens (CL) exam/fitting to help you determine the right contact lenses for you. This is different from a regular eye exam, although some tests may be similar. Daily disposable contact lenses have become more popular (and have eliminated infections from wearing them too long). Contact lenses are available for a multitude of eye concerns – dry eye, astigmatism, presbyopia (reading fine print), distance and near vision (multi-focal and/or monovision) and for eye diseases such as kerataconus. The major types of contact lenses include soft, rigid gas permeable (RGP), extended wear (two-week or monthly lenses); hybrid and decorative (colors), and scleral.
Today's Vision optometrists primarily prescribe contact lenses from the top national manufacturers – Alcon, Bausch & Lomb (B & L), Coopervision and Vistakon. Most contact lenses now incorporate silicone hydrogel. Silicone hydrogel lens allow more oxygen to reach the eye surface. The added silicone can reduce the surface wettability, however, CL solutions such as B & L's Biotrue include special wetting agents.
Vistakon's Acuvue contacts are No. 1 in the U.S. and with Today's Vision doctors. Acuvue products cover the gamut of CL lens options – dailies, two-week and now monthly with the introduction of its Vita lens. Daily lenses include: TruEye, 1-day Acuvue Moist, Moist for Astgimatism and Moist Multifocal, and Oasys 1-Day with HyrdaLuxe. Acuvue Oasys, Acuvue Oasys for Astigmatism and Acuvue Oasys for Presbyopia are the national leaders in the two-week category. Acuvue Define is a one-day specialty lens to enhance eye color.
Using contacts as directed and not extending their wear (for example wearing two-week contact lenses for a month) are critical to your eye health – and avoiding infections and more serious complications. Please view this Acuvue Wear and Care video to learn more.
One contact lens (CL) size doesn't fit all. Your doctor may utilize a keratometer and/or corneal topographer to measure the curvature of your cornea, will measure your eye's pupil, and evaluate your tear film before providing trial contacts. After determining the best contact lens fit, your doctor will write a CL prescription that designates contact lens power, base curve shape and diameter – and the exact contact lens the doctor determines will be best for you.